Friends of Hollinfare Cemetery
This Friends group has been in operation since 2010 and has over 50 volunteers who look after the maintenance of the cemetery.
In 2012/ 13 the cemetery was awarded Green Flag status (benchmark national standard for parks and green spaces), recognising the hard work and commitment shown by volunteers and supporters. The group have continued their work and helped to maintain the status for a further 5 years (2013/2014, 2014/2015, 2015/16, 2016/2017 and 2017/2018).
Monthly action days are held from February to November on the last Saturday of each month between 10:00am and 1:00pm. Volunteers are warmly welcomed and guided as to how they can help. If you can give an hour or more of your time you can make a difference. Simply turn up – all tools are provided.
The Friends group also operate a Grave Tending Scheme. For further information you can download the pdf below or give Sheila Breese a call on 0161 775 5640.
If you wish to make enquiries about a memorial or want more information about the cemetery you can contact Warrington Borough Council Bereavement Services on 01925 267731 or [email protected]. Alternatively why not visit their website.
Below are testimonies from grateful relatives visiting the cemetery and taking up the Grave Tending Scheme:
 "My brother lives in in North Yorkshire and I live 10 miles from Brighton so it is difficult for us to visit much, but it has given us great comfort knowing that our grandparent's grave is being looked after. It is quite remarkable the difference we saw on our last visit which has resulted from the kind contribution by local people and we thank all on behalf of our family very much."
 "We travel from Bury when we can to check on my grandparent's grave. I visited with my wife and we were really impressed with the work your volunteers have undertaken to the overall look and feel of the cemetery. We can now see into the green and the pond at the Black Swan from the grave, something that we could not do previously and it has opened up the area and made it less gloomy. Please pass on our sincere thanks to everyone involved."
What's On
Our News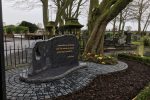 These are the words on a wonderful memorial recently installed in Hollinfare Cemetery, Hollins Green. It has been a long-held desire of the Friends of Hollinfare ... more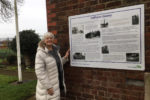 The Friends of Hollinfare Cemetery committee are thrilled that they now able to publicly share the history of the cemetery, thanks to the production of a long-awaited ... more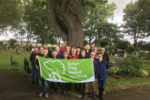 Despite heavy early morning downpours, and it being a Bank Holiday weekend, 20 volunteers turned up and got stuck in at the monthly action day at Hollinfare Cemetery in ... more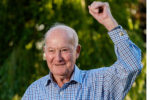 Our lovely Fred was taken aback when he was asked to step up and receive a community award from Hamilton Davies Trust at their annual celebration on 5th June. Fred ... more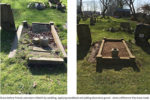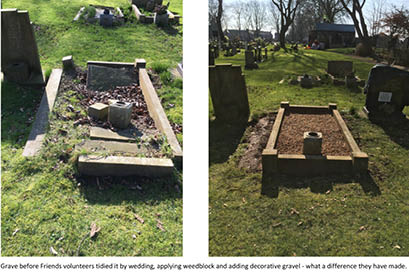 Friends' volunteers kick started the New Year by getting stuck in to even more improvements to Hollinfare Cemetery. Seventeen volunteers turned up in February for the ... more
Resources