2018 sees even more improvements!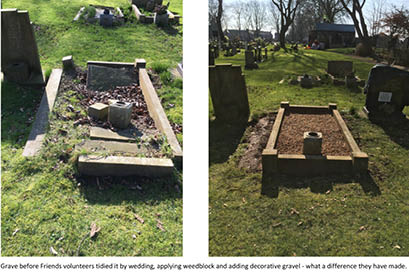 Friends' volunteers kick started the New Year by getting stuck in to even more improvements to Hollinfare Cemetery.
Seventeen volunteers turned up in February for the first action day of 2018 and left the cemetery a much better place than they found it… yet again!
Busy hands were turned to cleaning moss from paths, rotating the compost bays, general clearing up and improving the look of seven graves by weeding, weed blocking and laying golden gravel.
Chair Mandy Eccles said: "It is wonderful to see volunteers kindly turn up at the action days, especially after the winter break! Together they make a world of difference to how the cemetery looks and feels. Visitors to the cemetery can really see the changes and express their gratitude to the volunteers, which is wonderful to hear."
A second phase of Memorial Improvements, funded by the Friends group and carried out by WBC Bereavement Services, is taking place this Spring. This will further enhance the look of the cemetery.
To find out more about the work of the Friends group or to learn how to volunteer please click https://rixtonwithglazebrook.net/locations/friends-hollinfare-cemetery-2/
Posted on: 5th March 2018