PAUSE : REFLECT : CHERISH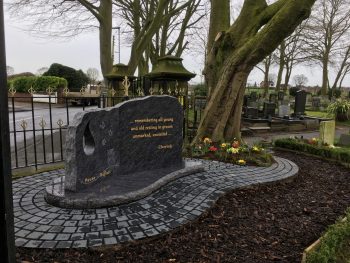 These are the words on a wonderful memorial recently installed in Hollinfare Cemetery, Hollins Green.
It has been a long-held desire of the Friends of Hollinfare Cemetery to have a memorial dedicated to those that lie within the cemetery without any visible sign – being unmarked and unnoticed, for whatever reason.
It was in early 2018 that the dream of having a memorial became a possibility, thanks to an offer of funding from a very generous like-minded benefactor, who wishes to remain anonymous, but without whom the project just would not have become a reality.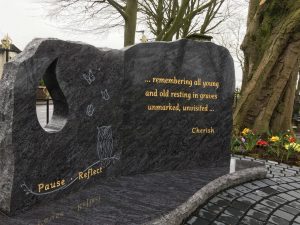 Driven by Friends committee members Sheila Breese and Mandy Eccles, the ambitious project was finally completed in March 2020. The Friends are delighted with the memorial, which is a stunning and fitting tribute.On one tablet is a carved-out teardrop and a pictorial design that shows a thoughtful owl, symbolising age and wisdom, and 3 beautiful butterflies depicting the fragility and precious beauty of children. The written message on the tablets invites visitors to stop and think and simply asks them to: PAUSE : REFLECT : CHERISH …. all the young and old resting in graves unmarked and unvisited.
The simplicity of the sculpture belies the thought and craftsmanship that has gone into it. The Friends wish to thank all those who supported the project including:
WBC Bereavement Services for allowing the memorial to go ahead
Artist Rachelle for her creative input
Stonemasons James Hilton who turned our 2D design into a beautiful 3D sculpture and showed great patience and understanding throughout the project
Local builder Paul Dixon for kindly donating his time and craftsmanship freely to pave around the installed memorial and for doing a fantastic and professional job, which really sets the memorial off
Rixton-with-Glazebrook Parish Council for funding £250 towards the cost of the paving stones
Mike Thomas, from Benchmark in Irlam, for donating foundation materials to install the paving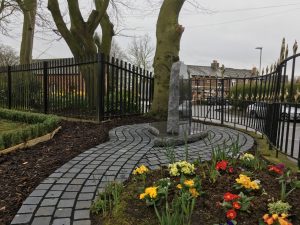 The wonderful support received and kind gestures by all have meant a great deal to the Friends group.
With the memorial finally installed, the Friends volunteers rolled up their sleeves and finished off the ground works and planting around the memorial to complete the project.
Mandy Eccles, Chair of the Friends group said: "Myself, Sheila and all the Friends committee and volunteers are thrilled and extremely proud that the memorial is now completed. We are absolutely delighted with the finished result and we are sure that the strength and design of this beautiful stone sculpture with its simple, yet meaningful message, will be thought provoking and strike a chord in the hearts of all who visit it. We hope that it will be treasured for many years to come."
When you are next in Hollins Green please stop by the cemetery and take a moment to enjoy the memorial first-hand.
Posted on: 22nd March 2020