Remembering the past!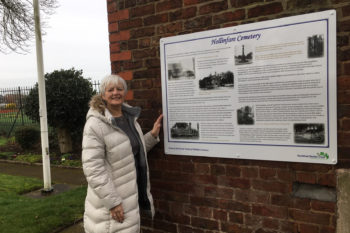 The Friends of Hollinfare Cemetery committee are thrilled that they now able to publicly share the history of the cemetery, thanks to the production of a long-awaited heritage board.  The board has been funded by the Hamilton Davies Trust and produced by the Friends Chair Mandy Eccles (shown in the picture) with the help of committee members and lots of research.
Mandy produced the board following permissions from Warrington Borough Council (WBC) Bereavement Services and liaised with them regarding some of the content. Both are thrilled and delighted with the outcome.
Mandy said: "It has taken some time to produce the board, due to other commitments and time needed to do the research, but I am delighted with the result. I hope that others enjoy reading the history and leave the cemetery learning a little bit more about it and our rich local heritage."
Neil Simpson from WBC Bereavement Services said: "Well done and thank you to the Friends for all their continued hard work and support that they provide to Hollinfare Cemetery, it is an absolute credit to all the volunteers."
Sited on the gable end of the brick storeroom in the cemetery, the board is available for all to see and read.  The cemetery is open every day of the week so pop in at any time.
The Friends volunteers hold an action day on every last Saturday of the month from February – November inclusive 10am – 1pm. Anyone wishing to go along for an hour or two to lend a hand will be guaranteed a warm welcome.
To find out more about the work of the Friends group and to see images of the cemetery click https://rixtonwithglazebrook.net/locations/friends-hollinfare-cemetery-2/
Posted on: 8th March 2019