A sparkling start to the New Year!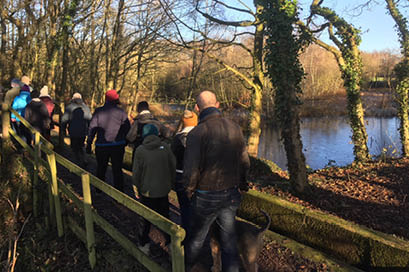 The morning sun shone in a clear blue sky and leaves were glistening with frost as 67 people gathered at Rixton Claypits Visitors' Centre to join in a guided Winter walk on Sunday 7th January 2018.
Walkers of all ages came suitably booted and wrapped up to enjoy a ramble and blow away the Christmas cobwebs. The route followed public footpaths that took in the natural beauty of the Rixton Claypits Nature Reserve and the scenic rural views across Rixton Moss. There was lots of chatter and laughter on route and everyone thoroughly enjoyed the 3-4 mile circular walk, which took about 1.5hrs. Afterwards walkers were suitably refreshed with a warming soup and hot drink at the Claypits Visitors' Centre.
The guided walk is one of 3 seasonal walks organised by the Rixton with Glazebrook Parish Plan Group. John Eccles, the guide on the day, said: I was surprised and delighted by the turnout – thanks to all who came along. Previous walks have seen an average of 25-30 people attending, so for 67 to turn up was brilliant. It was the first visit to the Claypits for many, having previously only driven past it. They were amazed at how beautiful the Nature Reserve is and how rural the Rixton-with-Glazebrook area is – especially up on the Moss. We were a little concerned about whether there would be enough soup, but thankfully the Village Shop in Hollins Green came to the rescue with extra supplies!. I'd like to thank Mik and Marcus the Claypits Rangers for opening up the Visitors' Centre for us to use and for the fantastic job they do all year round at maintaining our wonderful local gem."

Local resident Helen Hubbard said:  "Thank you to everyone who was involved in organising the event.  The length and pace of the walk was great for people of all abilities; and, along with the very welcome refreshments afterwards, was enjoyed by everyone that I spoke to. I haven't visited Rixton Claypits in winter before, so it was nice to see the landscape from a different perspective."
The next guided walk will be a Summer one – date to be decided. The walk will be advertised on the Hamilton Davies Trust website and Facebook page / rixtonwithglazebrook.net / In the Know (Spring edition out in March) and in the summer I & C Times edition. Alternatively anyone wanting to be notified of the date by phone can call Mandy Eccles on 0161 222 4003 or John Eccles on 07971 580113 and leave their contact details.
For walkers interested in exploring the local footpaths for themselves or in their own group there are 5 written walk leaflets called 'Footpaths Around Rixton' freely available to pick up from the Black Swan, Red Lion and Village Shop in Hollins Green, Glazebrook Post Office, Hamilton Davies Trust and Cadishead Library. Alternatively they can be downloaded from the community website rixtonwithglazebrook.net https://rixtonwithglazebrook.net/locations/footpaths-around-rixton/
Posted on: 8th January 2018