Rixton-with-Glazebrook Community Hall
The Community Hall has been a hub of activity since it was built in 1972. Plans have recently been drawn up for refurbishments to the hall.
The Hall was built due of the efforts of the villagers who lived in the parish at that time, having raised a quarter of the costs of the hall build themselves, which then entitled them to apply for grants to make up the final amount required.  To this day the Community Hall still belongs to the community of Rixton-with-Glazebrook and is run by the Hall Committee, a group of local volunteers, made up of Parish group representatives and Parish members. The committee is elected annually.
The Hall is home to various activities taking place both daytime and evenings. Groups and classes running regularly from The Community Hall include: – Karate – Sequence Dancing and Social Dance – Thursday Club – Indoor Bowling – Art Class – WI Craft Sessions.
Monthly meetings are also held at the hall by: – Rixton-with-Glazebrook Parish Council – Glazebrook Women's Institute. The Community Hall is also the venue for the annual Village Show, hosted by the Chrysanthemum Horticultural Society.
The Hall is available to hire and includes a large and small room which are for hire at weekends at certains times during weekdays – these can be booked separately. The large hall with wooden floor is suitable for dances, parties, weddings and christening and caters for groups from 72 people for sit down meals up to 160 for buffet functions. Licensed bar and catering facilities are available on request. The small room is suitable for small group activities and meetings. Facilities also include a kitchen, large car park to the rear and disabled access.
To enquire about a booking please contact 07851 267891 or to download a booking form click on the pdf below.
What's On
Our News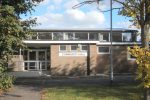 The Rixton-with-Glazebrook Community Hall 2021 Annual General Meeting is to be held on Monday 8th March starting at 7.30pm at the Community Hall, Manchester Road, ... more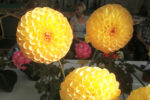 The Rixton-with-Glazebrook and District annual Chrysanthemum and Horticultural Society held a successful and impressive 2019 autumn show, turning Hollins Green Community ... more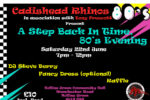 Following the roaring success of the previous 80's night fundraiser the popular DJ Steve Berry has been booked once again for Saturday 22nd June for another fundraising ... more
The Community Hall committee intend to commence hall refurbishments in 2020 and as such the hall will not be available for any bookings from Monday 10th August 2020. It ... more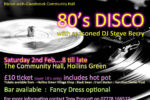 An 80s night, arranged by the Community Hall fundraising committee in aid of the hall's planned refurbishment, was a roaring success raising a massive £1,476. The ... more
Resources