Neighbourhood Watch
The aim of Neighbourhood Watch is to bring neighbours together to create strong, friendly, active communities.
There are currently three formally registered, well established Neighbourhood Watch Schemes in Rixton-with-Glazebrook that have been running effectively for a number of years in the area, covering Manchester Road and Claydon Gardens. To find out if there is a current scheme in Rixton-with-Glazebrook, residents can leave a message for the Warrington East PCSOs at Warrington Local Policing Unit (LPU) on 101 with their contact details and name of the road in question or email: warrington.lpu@cheshire.pnn.police.uk
Alternatively you can visit the Neighbourhood Watch website:  http://www.ourwatch.org.uk/ (enter postcode for local information)
If you are a Rixton-with-Glazebrook resident and are interested in becoming a Homewatch coordinator and would like to chat to someone already in the role, you can contact Karen Armstrong on claydonhomewatch@googlemail.com
One of the Neighbourhood Watch Schemes in the parish is using an online, parish based communication tool 'NextDoor'.
NextDoor
NextDoor is a private, secure website which facilitates communication among neighbours and helps build stronger neighbourhoods. It can be used to:
Share local recommendations/ask for advice (plumbers, mechanics, babysitters etc)
Sell or give away household items
Publicise local events
Exchange information about crime and safety issues / lost and found
Find neighbours in the directory
View a neighbourhood map
Circulate important documents
To find out what is going on in the Rixton-with-Glazebrook Nextdoor community visit: https://rixtonwithglazebrook.nextdoor.co.uk/login
The National Neighbourhood Watch Newsletter can be viewed on: https://www.ourwatch.org.uk/knowledge/news-read-latest-e-newsletter/
For information specific to crime in our area visit: https://www.cheshire.police.uk/local-policing/warrington/rixton-and-woolston/
To find your local neighbourhood watch scheme click here http://www.ourwatch.org.uk/postcode-search/?postcode=WA36FA
For other useful contacts visit: https://www.dropbox.com/s/zx5dbez7o1rshve/Useful%20contacts.pdf?dl=0
What's On
Our News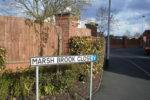 Some Rixton-with-Glazebrook residents may be interested to know of an existing website Nextdoor that currently has just under 200 residents signed up across the parish. ... more