Glazebrook Women's Institute
The Women's Institute (WI) was formed in 1915 to revitalise rural communities and encourage women to become more involved in producing food during the First World War. Since then the organisation's aims have broadened and the WI is now the largest voluntary women's organisation in the UK. The WI celebrated its centenary in 2015, embracing 212,000 members in around 6,600 WIs.
The WI plays a unique role in providing women with educational opportunities and the chance to build new skills, to take part in a wide variety of activities and to campaign on issues that matter to them and their communities.
Glazebrook WI currently have full membership, but encourage any local ladies interested in joining to contact Judith. Meetings are held on the 2nd Wednesday of every month from 2pm – 4.30pm.
Craft groups are held on the last Wednesday of each month (except July, August and December) 2pm – 4pm, to which non members are most welcome – cost £2. Simply turn up and make some new acquaintances.
What's On
Our News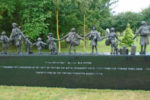 On 26th July Glazebrook WI members enjoyed a day trip to the National Arboretum in Alrewas, Staffordshire. The expansive 150 acre site features 300 thought provoking ... more