Parish clean up receives a great turnout!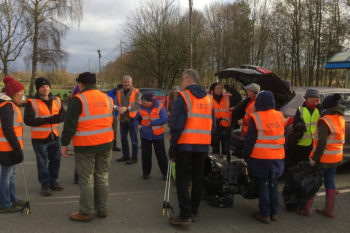 The Rixton-with-Glazebrook Community Plan Group were thrilled with the number of volunteers that turned up for their Parish Litter pick in February.
Armed with hi-vis vests, litter pickers and bags, 25 kind volunteers filled 55 bags of rubbish from the lanes and roads around the parish. Included in the merry throng was 7yr old Ethan Brock, who came along with his granddad. Ethan, who also took part in a parish guided walk in January, had said then that he wanted to volunteer….and true to his word he turned up to the litter pick. Well done Ethan for caring…keep volunteering!
Having collected so much rubbish the volunteers were grateful for the warming much-needed cuppa afterwards, courtesy of the Black Swan pub.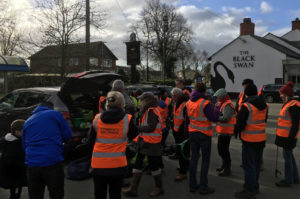 Like many other areas, the worst place for litter is along the main roads, caused mainly by vehicle users throwing out their empty sandwich wrappers, plastic bottles and cigarette packets! Manchester Road (A57) and Glazebrook Lane are without doubt the worst spots in the Parish for litter. Unfortunately, it is hard to change the mindset of those people who carelessly drop litter without a thought for the environment, and therefore litter will always be a problem! The Community Plan Group, however, are not put off by this and are determined to improve the look of the parish as much as possible by holding regular litter picks.
Anyone interested in lending a hand for an hour at the next litter pick on Saturday 22nd June can contact Sharon on sharon@hamiltondavies.org.uk or 07584 497183.
Posted on: 12th February 2019