Rixton-with-Glazebrook Pre-school
An Ofsted registered Pre-school offering Early Years education for 2 – 5yr olds. The 3hr morning sessions run from 9.05am – 12.05pm and full day care is from 9.05am – 3.05pm Monday to Friday during term time. The qualified and experienced staff team ensure children are safe, happy and stimulated with a choice of free play, continuous provision and adult led activities. Facilities include large, secure indoor and outdoor play and learning spaces. The range of quality toys, equipment and activities offer fun experiences and learning opportunities. Click on the gallery images below to get a flavour of what your child could be enjoying.
To view or download the Pre-school Prospectus related pdf below.
The latest information from Ofsted can be found at:  https://reports.ofsted.gov.uk/inspection-reports/find-inspection-report/provider/CARE/EY491081  
To view the 2018/2019 holiday dates click on the pdf below.
The following are testimonials from parents, visitor and child:
"Both my wife and I were very happy with our choice of Pre-school for our daughter, with its high level of care and its commitment to giving the children a safe and happy environment to develop within."
"Having recently visited Rixton-with-Glazebrook Pre-school to deliver a safety talk, I was impressed with the atmosphere and the children's speech and language skills. It was an enjoyable experience that I look forward to repeating next year." (Community Nursery Nurse)
"I am keenly aware of the benefits of outdoor play and it was a pleasure to see my child enjoying vigorous physical activity. The children can play, explore and interact with the natural outdoors allowing them access to gardening, water, sand, insects and outdoor toys, not to mention fresh air."
"I like running in the wind and getting wet in the puddles. I love going outside, I can go faster." (4yr old)
If interested in a place or wishing to find out more about what Pre-school can offer contact the Pre-school Manager Elizabeth for a chat on 07815 561372.
What's On
Date/Time

Event

Organiser

Location
Our News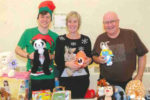 With over 20 stalls selling a variety of products, face painting, festive pebble display, children's crafts, games, tombolas, Santa's grotto, tea room and Culcheth ... more