Rixton Claypits Nature Reserve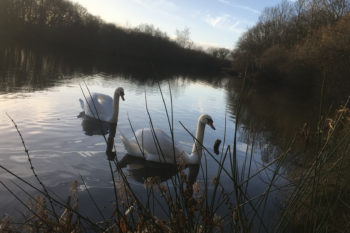 The Carbon landscape scheme (funded by the National Lottery ) is fully underway. The project entitled  'Newtopia', although aimed at improving the site for the protected Great Crested Newts, will benefit a great deal of other wildlife . Visitors will notice that a new livestock fence has been installed, running alongside the public footpath. This is to contain sheep when the scheme is completed, so that the open areas are maintained as meadows which will link  pond systems together. During November, more scrub will be cleared from what used to be open grassland, as a part of this scheme.
Aside from the Newtopia project, the Rangers will be involved in meadow cutting and woodland management. In wooded areas they are removing some Sycamore trees (a non native species) in favour of Oak and Ash, which are far more productive for wildlife and provide a richer, more diverse understorey. Unfortunately, some Elm trees have had to be felled due to Dutch Elm disease and others have been coppiced (cut back to regrow from the stump) in a bid to control the spread of this disease. This is necessary in particular as the Claypits have the  White Letter Hairstreak butterfly, using only the Elms.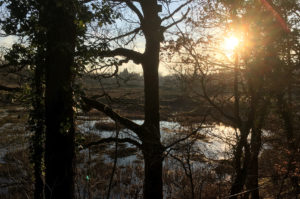 Last year, most of the ponds were lost to the drought. This had a huge negative impact on the Great Crested Newt offspring, most of which died as the water bodies dried up. It also meant that the sheep had to leave the Reserve because there was no water for them, which meant there was no grazing during a critical time of growth. However,  five ponds have now been re-profiled and deepened during the drought period which has paid dividends. Already, each of these water bodies have held breeding Great Crested Newts and are full of other pond creatures too.
Unfortunately, the Claypits suffered a break in during September resulting in a theft of equipment. This also caused a set back in progress, due to the interruption of planned works.
On a lighter note, several Ruddy Darter dragonflies were seen this year, following an absence of several years, and a new species to the site, the Red Eyed damselfly, first noted last year, is still there and doing well!  Botanists may be interested to know that a new plant species to the Reserve is the Lady's Bedstraw.
Posted on: 12th November 2019