A shining wonderful tribute!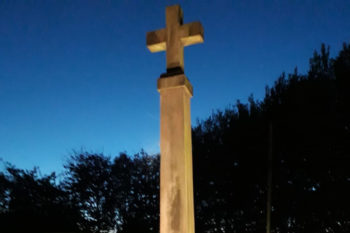 The Shine the Light committee are thrilled that, after 4 years in the making, their aim to gently uplight the War Memorial in time for the 100 year commemoration of the end of the Great War has been achieved.
The committee wish to thank the four main funders; the Heritage Lottery Fund, Rotary Club of Irlam, Hamilton Davies Trust, and Warrington Borough Council Neighbourhood Fund for their contributions to the project.
Residents and visitors to the parish can now see this most elegant memorial in all its glory both day and night.
The Chair of the group Sharon Piggin said: "Thanks must also go to everyone that has given their precious time and donations to help raise funds towards the project by donating items for raffles and tombolas, purchasing beautiful knitted dressed teddies, attending the history weekend and the numerous talks that have all helped raise funds towards the project. Well done to everyone involved…we did it."
To see a full image of the up-lit memorial in all its glory and other images click here https://rixtonwithglazebrook.net/locations/shine-light/
Posted on: 19th November 2018