Walkers enjoy rural Rixton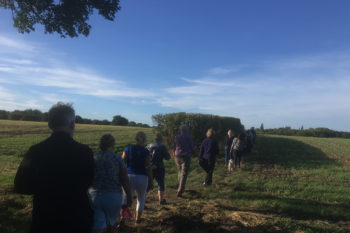 The beautiful evening sun lit the way for 41 walkers, a toddler and several dogs on a summer's evening guided walk in August, organised by the Rixton-with-Glazebrook Parish Plan Group.
Walkers from Woolston, Culcheth, Cadishead and Irlam, as well as locally, enjoyed a 3mile meander along the footpaths and lanes of Hollins Green and Glazebrook. A few of the walkers were unfamiliar with the area and were amazed at just how rural and beautiful it is.
Walk guide John Eccles said: "What a great turn out we had. The weather couldn't have been nicer, with a warm summer breeze and the evening sun casting a golden glow over the farm fields. It was lovely to see so many people enjoying the area as well as having a good chat along the way."
Anyone wishing to explore the area on foot may be interested in the free 'Footpaths Around Rixton' walking leaflets available to download by clicking here https://rixtonwithglazebrook.net/locations/footpaths-around-rixton/ . Alternatively they can be picked up from the Hamilton Davies Trust, Cadishead Library, the Village Shop, Black Swan or Red Lion in Hollins Green or Glazebrook Post Office. Alternatively, for more information about the walks contact 0161 222 4003.
Posted on: 10th August 2018