Hollins Green Indoor Bowling
Bowling takes place on Monday afternoons 2pm – 4.30pm, Wednesday evenings 7.30pm – 10pm and Thursdays 8pm – 10.30pm throughout the year.
Bowling encourages all ages from 12 years and over (under 18's must be accompanied by an adult). Places are available – simply turn up with a change of soft footwear 10 minutes before the start time.
What's On
Our News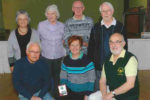 The Rixton-with-Glazebrook Indoor Bowling team finished runners-up in the Cheshire Villages Indoor Bowling Tournament for 2017. The mixed team of men and women only ... more