Green and flying high!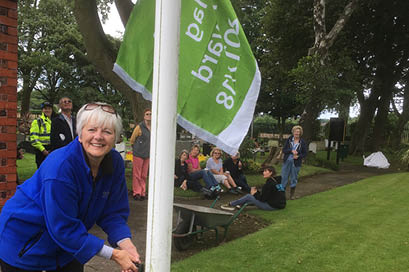 Friends of Hollinfare Cemetery have a right to feel happy and proud, having helped achieve Green Flag status for the cemetery for 6yrs running.The Green Flag for 2017/2018 recognises the continued commitment and hard work of volunteers and the care taken to maintain and improve the look and feel of the cemetery.
It's not all hard graft though! Whilst rolling up their sleeves and getting stuck in to the tasks in hand, volunteers also get chance to chat and share a laugh with other like-minded people. Whether weeding, planting, brushing up, cleaning, mowing, painting or digging volunteers always have a smile on their face, whatever the weather!
Chair Mandy Eccles said: "It's always a special moment to raise the new green flag, as it signifies another year of achievements. I love to see the volunteers come together at action days, there's a real buzz in the cemetery with lots of action, fun and laughter. I feel very proud of all the volunteers and the difference they are making. I've also made some good friends along the way too…an added bonus!"
The volunteer time put into the monthly action days, and many more hours in between, have clearly resulted in vast improvements to the cemetery in Hollins Green over the years. Visitors regularly comment on how green and pleasant the cemetery now is and how it gives them a lift to see the positive changes when visiting their loved ones. With seasonal splashes of colour in pots, borders and along the entrance wall the welcome is always colourful and bright.
Action Days take place on the last Saturday of each month from February to November from 10am – 1pm. Anyone interested in volunteering an hour or two of their time, to join the merry band of Friends, can contact either Pete Higson on 0161 775 2802 or email pete.s.higgy@btinternet.com or Mandy Eccles on 07767 0675211.
To read more about the activities of the Friends group or see images from action days click on the link below.                https://rixtonwithglazebrook.net/locations/friends-hollinfare-cemetery-2/
Posted on: 4th August 2017