Community Plan volunteers sign the way!
Armed with buckets, water carriers, long handled brushes and plenty of enthusiasm the Rixton-with-Glazebrook Community Plan Group volunteers set about cleaning road signs and bus shelters around the parish on Saturday 1st June.
The cleaning session was organised by the group to help brighten the look of the parish and to cut back overgrown foliage from road signs and footpath signs to make them more visible and to aid walkers, road users and visitors  in navigating the area better.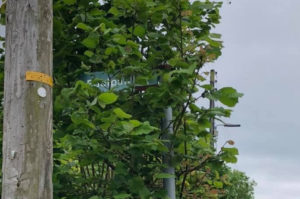 The nine volunteers on the day split into 3 groups and between them tackled most of the road signs throughout Hollins Green and those along the Manchester Road section from the Cadishead border to Chapel Lane in Rixton.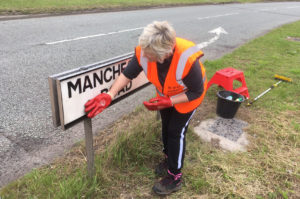 Some of the signs were easy to wipe clean whilst others were hardly visible, due to years of grime and green mould from surrounding hedges, so took a bit more elbow grease! The volunteers were not put off and worked hard all morning….making  a big difference to the look of the parish!
Being a new venture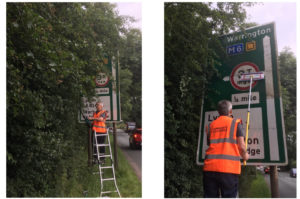 for the volunteers the sign cleaning was a bit of a learning curve but, following a quick review after the cleaning session along with a welcome drink at the Black Swan, they were all keen to do another one – next time covering the Glazebrook area of the parish. A date for the next sign cleaning will be decided at the next Community Plan meeting on 8th July.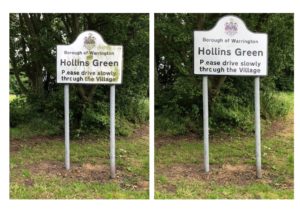 The group would love more volunteers to come along to the next sign cleaning session. If you are interested in lending a hand please contact Community Plan secretary Jill Eaves on jill.eaves@hotmail.co.uk or Chair Andy on 07768 276922.
For more information about the Community Plan group click here https://rixtonwithglazebrook.net/locations/rixton-glazebrook-community-plan-group/
Posted on: 1st July 2019