Community Retailer of the Year!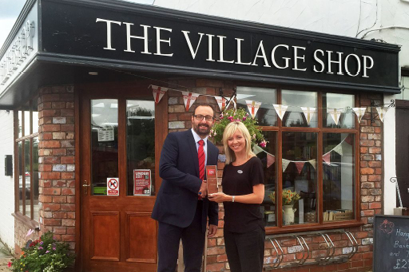 The Community Shop in Hollins Green are thrilled to have been awarded the title of 'Community Retailer of the Year' by national wholesaler Palmer and Harvey.
Managing Director of Palmer and Harvey, Martyn Ward said: "The reason we host these important awards is because we feel it is essential to reward excellence in our sector. The feedback I had from the judges, which included suppliers, industry figures as well as key Palmer and Harvey colleagues was that Hollins Green Village Shop really stood out from the crowd. The shop team have demonstrated outstanding commitment to the local community, from schoolchildren to pensioners and everyone in between. They have established the shop as a hub at the heart of the community, offering much more than just a place to shop."
Community Shop Manager Julie Atkinson thanked everyone involved saying:  "We are all absolutely delighted to win the award. It is recognition to all the volunteers, staff and of course our customers that have enabled the community shop to develop and grow."
Palmer and Harvey also rewarded the shop with £1,000 credit to allow the shop to put even more back into the community.
To read more about what the shop has to offer click on Hollins Green Community Shop.
Posted on: 12th August 2016